The
UmJammer Lammy Official Guide Book
(ウンジャマ・ラミー 公式ガイドブック) was a Japan-only released gaming guide for
Um Jammer Lammy
.
Giving insights on the thought process of the stages, characters, song lyrics and even holding interviews with the creators and voice actors, the book requires one to be able to read Japanese. 80/128 pages are in color. The book comes with stickers.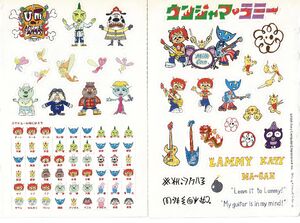 Description
Edit
キャラクター誕生過程、デザインのロドニーをはじめとするスタッフインタビューから、あみぐるみなどマスコットの作り方、グッズコレクション、設定資料集などを収録。ラミーの魅力を深ーいところまで網羅。

---
Character thought process, staff interviews -including character designer Rodney, mascot arts & crafts tutorials, such as knitting, and a catalogue of merchandise. It covers the charm of UmJammer Lammy.
02. Chapter 1
Introduction to the bandmembers of MilkCan.
17. Chapter 2
Introduction to the teachers and their stages.
49. Chapter 3
The flipboard game devided pages in three seperate pieces so can puzzle an outfit on Lammy or Katy. Ma-san on the other hands forms an animations that shows her fuse running out.
65. Chapter 4
Interviews with the staff, describing the thought process behind characters.
99. Chapter 5
Tutorials for creating crafts and music sheets.
Chapter 1&2: Characters & Stages
Chapter 2: Flipboard Game
Chapter 3: Character Thought Process