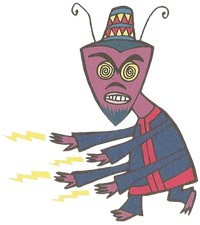 So I decided to make a blog that I update over time to review the big changes I am making on this wiki, as the new admin. The upper sections and bulletpoint are the newest; easier for reading.
Updates
Chat room is enabled.
Comments on pages are no longer available due to excessive vandalism.
Colonel Noodle's page been written and updated. The comment section is something else.
UmJammer Lammy Official Guide Book page with ALL SCANS in HQ!!
Meiji Bubblegum's collection of Bubblegum Wrappers! Exciting!
Desktop Accessories page created...in the works due to loads of content.
RodneyFun Comic Collection page with all content.
Instructor's page has been created
Food Court's page has been created
PaRappa The Rapper 2 Official Guide Book page with ALL SCANS in HQ!!
Cathy Piller's page been written and updated. Her design is pretty deep!
Chief Puddle's page been written and updated. Only needs more pictures
Joe Chin's page is not finished but 500% better. Check it, NOW, and I mean NOW!
Paul Chuck's page been written and updated. Only needs more pictures
Entire PaRappa The Rapper OST has been added! A new page is created.
Entire PaRappa The Rapper 2 OST has been added! A new page is created.
Stages Infobox is created
All PaRappa The Rapper stage pages have fanmade names; renamed. All redirects are manually deleted cause I cannot find a tool on Dev.Wiki
New Content
Goodies!
Characters
Merch
New Features
New CHARACTER INFOBOX allows music
New STAGES INFOBOX allows music and has next/prev option
History
Right After Adoption (23 July 2016)

MASS CLEAN-UP shitty commentary and weird articles lying around.

Man, ya'll haven't seen the Moshi Monsters wiki, this place was pretty clean IMO!

Slimmed down OGG files in the CSS so you don't have that annoying Info symbol.
Lightened up the yellow and added a header by doing weird CSS stuff

All these colors fit that pastel BG better.

Also we are now added to rhythm games, as you can see in the Main Page footer. Parappa created that genre so we better be on there! During my Adoption Wait Time

LINE stickers article created with all the current available stickers.
Rewritten Bullies' article.
Rewritten Katy Kat's article. Incomplete as of yet.
Rewritten Sweety Bancha's article. It's not 3 sentences anymore! Also SHOUT OUT! to User:73.73.141.5 for creating it; May 2016!
Merchandise article created. Where all the collecting research should come together
Fernandes Guitars article created.
Made several Infoboxes, for Characters, Albums and the Songs of Albums.
Fixed the Main Page by adding a news section and featured stuff

So I literally thought PSABR was from 2015 but it was 2013, RIP!
Ad blocker interference detected!
Wikia is a free-to-use site that makes money from advertising. We have a modified experience for viewers using ad blockers

Wikia is not accessible if you've made further modifications. Remove the custom ad blocker rule(s) and the page will load as expected.